What is the steps of steel coil coating process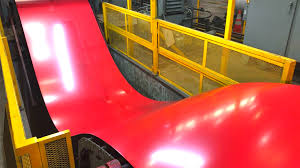 These are the basic steps of the steel coil coating process
UNCOILER
After visual inspection,moves the coil to the uncoiler whereby the steel is placed on a pay-off arbor for unwinding.
JOINING
The beginning of the next coil mechanically join to the end of the previous coil,this allows for the continuous feed of the coil coating line. This makes each edge of the joint area become the "tongue" or "tail" of the finished coated steel coil.
ENTRY TOWER
The entry tower allows material to accumulate and makes it possible for continuous operation of the coil coating process. This accumulation will continue to feed the coil coating processes while the entry end has stopped for the stitching (joining) process.
CLEANING AND PRETREATING
This focuses on preparing the steel for painting. During this stage, dirt, debris and oils are removed from the steel strip. From there the steel enters the pre-treatment section and/or chemical coater whereby chemicals are applied to facilitate paint adhesion and enhance corrosion resistance.
DRIED-IN-PLACE CHEMICAL COATER
In this stage a chemical material is applied to provide enhanced corrosion performance .The treatment can be chrome free if required.
PRIMER COAT STATION
The steel strip enters the prime coat station whereby a primer is applied to the pretreated steel. After applied, the metal strip goes through a thermal oven to cure .Primers are used to improve corrosion performance and enhance aesthetic and functional attributes of the top coat.
"S" WRAP COATER
The S wrap coater design allows for primers and paints to be applied to the top and back side of the metal strip in one continuous pass.
TOP COAT STATION
After the primer is applied and cured, the steel strip then enters the finish coat station whereby a top coat is applied. Topcoat provides corrosion resistance,color, flexibility, durability, and any other required physical properties.
CURING CONDITION
Steel coil coating ovens can range from 130 to 160 feet and will cure in 13 to 20 seconds.
EXIT TOWER
Like the Entry Tower, the Exit Tower accumulates metal while the recoiler is unloading a completed coil.
RECOILER
Once the metal is cleaned, treated and painted the strip is rewound into a coil size prescribed by the customer. From there the coil is removed from the line and packaged for shipment or additional processing