Powder Coating Equipment Advancements Increase Production Capacity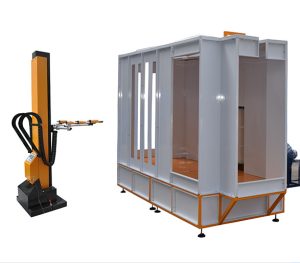 Powder Coating Equipment
Improvements in powder coating materials have brought advancements in application and recovery equipment technology. They are aimed at reducing the cost of powder coating systems, making the powder coating operation more efficient, and expanding to new production requirements and part configurations. Overall material efficiency of a powder coating system commonly exceeds 95%. Equipment engineers have made considerable progress in improving first-pass transfer efficiency and in better part coverage to eliminate manual touch-up from automated systems. Improved spray booth and powder delivery system designs have dramatically reduced the time and labor required for color changes. The range of equipment available today is virtually unlimited, from the single gun, manual unit to multiple gun, fully automated or robotic systems with sophisticated process controls and enormous capacity.
Other advances in application include:
In-mold powder coating. An in-mold powder coating process has been developed in which powder is sprayed onto a heated mold cavity; the powder then bonds to the molding compound when the molding cycle is performed. In-mold powder coating can be applied as a primer for a liquid top coat or as a finish coat to reinforced plastics. It is also used on automotive body panels and bathtub enclosures.
Blank coating. Powder coating of pre-cut metal blanks, which are then post-formed prior to final assembly, remains a strong growth area for powder. It offers high transfer efficiency, uniform film thickness, and a compact straight-line finishing operation that increases the level of automation.
Coil coating. Powder coatings for coiled steel and aluminum continues to be developed, with several coil coating lines currently in operation. Wider use of powder as a coil coating will prosper as fastcuring powders, providing durable, bright, and flexible coatings, are refined and improved.
Advancements in microprocessor, robot, and infrared curing technology speed powder coating operations. These methods will continue to be adapted for more coating operations to increase their production capacities.