Environmental advantages of powder coating mean substantial savings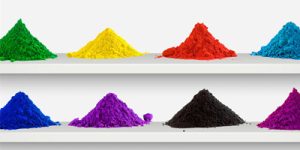 Today's environmental concerns are a major economic factor in the selection or operation of a finishing system. The environmental advantages of powder coating-no VOC problems and essentially no waste- can mean substantial savings in finishing costs.
As energy costs continue to rise, other advantages of powder coating become even more important. Without the need for solvent recovery, complex filtering systems are not required, and less air has to be moved, heated, or cooled, which can be a significant cost saving.
As the technology of powder coating has developed, efficiency of the process has improved. Powder is ever more competitive with liquids, delivering quality finishes that meet the requirements of a wide range of product applications.
In a study of a model coating line by the Powder Coating Institute (PCI), material costs of powder were slightly higher than a high-solids polyester finish. Yet, the bottom-line operating costs of powder – once costs of labor, maintenance, energy, clean-up and waste disposal are factored in – are significantly lower than the operating costs for other systems, by about 15% for high-solids polyester, and over 40% for conventional solvent and water-borne systems.
Its effect on workers is one cost-cutting factor that is difficult to measure. There is minimum operator training and supervision for a powder line. Employees prefer to work with dry powder rather than wet solvent-based paints because of powder's lack of fumes, reduced housekeeping problems, and minimum contamination of clothing.
Ongoing technological advancements in materials, equipment, and application techniques ensure that powder coatings will occupy an ever-increasing share of the finishing market.