The advantages of fluorocarbon powder coating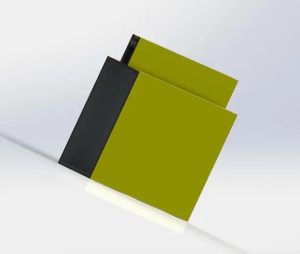 Fluorocarbon powder coating is a poly-vinylidene fluoride resin nCH2CF2 baking (CH2CF2) n (PVDF) as the base material or with metallic aluminum powder coating made for the toner. Bond of fluorine / carbonized the fluorocarbon base material in the chemical structure in conjunction with such a structure of the nature of having a short key is combined with hydrogen ions most stable solid combination, on the stability and solidity of the chemical structure different physical properties of the fluorocarbon paint in general coatings.
The advantages of fluorocarbon powder coating
Addition to abrasion resistance in mechanical properties, impact resistance, has excellent performance, particularly in adverse weather conditions and the environment, showing a lasting anti-fade resistance, UV resistance properties. Early 1960s for engineering plastics, for wires and cables, 1965 Pennwalt Chemical Company first polyvinylidene fluoride (PVDF) as the synthetic construction of the base material and metal particles, aluminum powder finishes, also known as metallic paint, and as trademarks to Kynar500. Thus the world manufacturers has started using Kynar500 create a fluorocarbon coating finishes, to meet the high-end architectural interior and exterior aluminum coating, a wide range of color choices, beautiful and dignified appearance, and durability for many of the world grand adding luster to the curtain wall construction. Paint manufacturers guarantee on the service life of the coating for 10 years, 15 years of development to guarantee 20 years.
American research institutes had fluorocarbon coating and super paint, the general paint did test compared, respectively coated sample on the searing sunlight in Florida, and 12 years of exposure to the harsh environment of the humid salty air, the actual prove the stability and durability of the fluorocarbon coating 30 and 80 percentage points higher than the other two coating, fluorocarbon coating guaranteed for use in a variety of harsh environments.
Spraying technology requirements and standards of fluorocarbon coating
Fluorocarbon spraying as a high-grade surface coating process means the whole process extremely strict quality requirements, production Kynar500 Binders fluorocarbon coating, fluorocarbon coating manufacturer is required to obtain quality permission to use the entire surface of the paint manufacturers process process, including pre-treatment process, the spraying process to the curing process are subject to a strict quality control to ensure the quality of the aluminum coating. fluorocarbon spraying sector today AAMA 605.02.90 main basis for the American Architectural Manufacturers Association standards This spray standards, check the coating quality international standard. following is the main indicator in the the AAMA the 605.02.90 standard of fluorocarbon spraying.