Classification of Polyethylene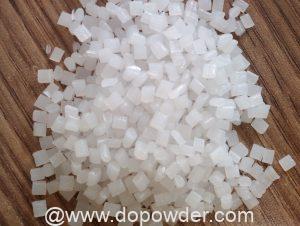 Classification of polyethylene
Polyethylene is divided into high density polyethylene (HDPE), low density polyethylene (LDPE) and linear low density polyethylene (LLDPE) according to the polymerization method, molecular weight and chain structure.
LDPE
Properties: tasteless, odorless, non-toxic, dull surface, milky white waxy particles, density about 0.920 g/cm3, melting point 130℃~145℃. Insoluble in water, slightly soluble in hydrocarbons, etc. It can withstand the erosion of most acids and alkalis, has low water absorption, can still maintain flexibility at low temperatures, and has high electrical insulation.
Production Process:
There are mainly two types of high-pressure tube method and kettle method. In order to reduce the reaction temperature and pressure, the tubular process generally adopts a low-temperature high-activity initiator to initiate the polymerization system, high-purity ethylene is used as the main raw material, propylene, propane, etc. are used as density adjusters. The polymerization was carried out under the conditions of 330°C and 150-300MPa. The molten polymer that initiates polymerization in the reactor must be cooled and separated at high pressure, medium pressure and low pressure. After separation, it is sent to the inlet of the high-pressure (30 MPa) compressor, while the low-pressure circulating gas is cooled and separated and sent to the low-pressure (0.5 MPa) compressor for recycling, while the molten polyethylene is sent to the granulator after high-pressure and low-pressure separation. For granulation in water, during granulation, enterprises can add appropriate additives according to different application fields, and the granules are packaged and shipped.
use:
Processing methods such as injection molding, extrusion molding, and blow molding can be used. Mainly used as agricultural film, industrial packaging film, pharmaceutical and food packaging film, mechanical parts, daily necessities, building materials, wire, cable insulation, coating and synthetic paper.
LLDPE
Properties: Because the molecular structures of LLDPE and LDPE are obviously different, the properties are also different. Compared with LDPE, LLDPE has excellent environmental stress crack resistance and electrical insulation, higher heat resistance, impact resistance and puncture resistance.
Production Process:
LLDPE resin is mainly produced by full density polyethylene equipment, and the representative production processes are Innovene process and UCC's Unipol process.
use:
Through injection molding, extrusion, blow molding and other molding methods, the production of films, daily necessities, pipes, wires and cables, etc.
HDPE
Properties: Natural, cylindrical or oblate particles, smooth particles, particle size should be 2 mm ~ 5 mm in any direction, no mechanical impurities, thermoplastic. The powder is white powder, and the qualified product is allowed to have a slight yellow color. It is insoluble in common solvents at room temperature, but can swell in aliphatic hydrocarbons, aromatic hydrocarbons and halogenated hydrocarbons when contacted for a long time, and is slightly soluble in toluene and acetic acid at temperatures above 70 °C. Oxidation occurs when heated in air and under the influence of sunlight. Resistant to most acid and alkali erosion. It has low water absorption, can still maintain flexibility at low temperature, and has high electrical insulation.
Production Process:
Two production processes are adopted: gas phase method and slurry method.
use:
Using injection molding, blow molding, extrusion molding, rotomolding and other molding methods to produce film products, daily necessities and industrial use of various sizes of hollow containers, pipes, calendering tapes and tie tapes for packaging, ropes, fishing nets and braided fibers, Wire and cable etc.
Classification of Polyethylene