How to Apply Metallic Powder Coating Powder
Posted by: doPowder | on July 31, 2022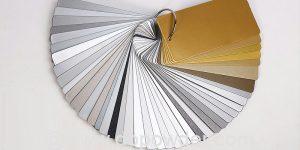 How To Apply Metallic Powder Coating Powder
Metallic powder coatings can display a bright, luxurious decorative effect and are ideal for painting indoor and outdoor objects such as furniture, accessories and automobiles. In the manufacturing process, the domestic market mainly adopts the dry-blending method (Dry-Blending), and the international also uses the bonding method (Bonding).
Since metallic powder coating of this type is made by adding pure finely ground mica or aluminum or bronze particles, you are actually spraying a mix of both the plastic powder and the fine aluminum powder mixed with it. With different guns the metallic particles in relation to the ground object may orient themselves differently. The orientation of the aluminum particles will determine the final finish.
Reduce dosing air, as low as possible to get a smooth soft flow.
Preferably use Dipstick or gravity cup so that fluidization air flow does not disturb particle size distribution.
Increase distance between gun and object to at least 8 inch or more.
Try with different nozzle especially soft flow nozzle.
Make sure that the powder coated material is put straight in an oven temperature of 200ºC —- if the oven will be at room temperature, the coating will flow at 150° and disturb the texture thus creating a smooth finish.
Tribo guns are generally not suitable for spraying metallic powder coatings. In most cases, an electrostatic corona gun is recommended for painting. Since this type of product contains metal pigments, the system should be well grounded when using the electrostatic gun, and at the same time set a lower electrostatic voltage and powder output to prevent sparks during spraying.
Above process is about How To Apply Metallic Powder Coatings