Pearlescent Pigments
Posted by: doPowder | on June 11, 2014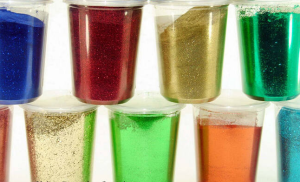 Pearlescent Pigments
Traditional pearlescent pigments consist of a high-refractive-index metal oxide layer coated onto a transparent, low-refractive-index substrate such as natural mica. This layering structure interacts with light to produce constructive and destructive interference patterns in both the reflected and transmitted light, which we see as color.
This technology has been extended to other synthetic substrates such as glass, alumina, silica and synthetic mica. Various effects range from satin and pearl luster, to sparkle with high chromatic values, and hue-shifting color highlights, again depending upon the exact architecture (type of metal oxide, layer thickness, particle size distribution, aspect ratio of the substrates, etc.).
When coated with titanium dioxide, these interference pigments range in color from silver, golden, red, blue and green. Additionally, iron oxide-coated substrates result in a deep chromatic luster effect. The main limitations of the pearl effects are lack of opacity and lower lightness contrast between specular and down flop angles.