Why and How To Recoat Powder Coating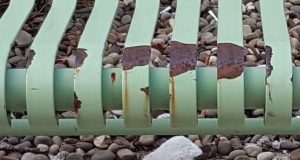 Recoat Powder Coating
Applying a second coat of powder is the common approach to repair and reclaim rejected parts. However, the defect should be carefully analyzed and the source corrected before recoating. Do not recoat if the reject is caused from a fabrication defect, poor quality substrate, poor cleaning or pretreatment, or when the thickness of two coats together will be out of tolerance. Also, if the part is rejected due to undercure, it merely needs to be rebaked at the required schedule.
A second coat is effective to cover light areas, surface defects from dirt and contamination ,rough spots from heavy film build or gun spitting, and color change from severe overbake. Rough surfaces and protrusions should be sanded smooth before recoating.
Parts inspected on-line can be left on the conveyor to receive a second coat. These parts can pass through the pretreatment stages with raw parts. If the recoated parts show water spots or stains, an adjustment can be made in the final rinse stage.
Chemical suppliers can offer recommendations. When parts for recoat are hung together, cleaning and pretreatment is not necessary. However, if the rejected parts have been stored to accumulate a practical number, they should be checked for dirt and contamination.
Coat Entire Part
When applying the second coat, normal mil thickness should be applied to the entire part. A common mistake is to coat only the defect area. This leaves a rough gritty surface where there is only a very thin overspray layer on the remainder of the part. The same recommended cure schedule is used for the second coat.
Intercoat adhesion can be checked after recoating on selected samples by using the cross hatch test or simply scratching the surface to see if the second coat peels easily from the first. Some powder coatings may need to be lightly sanded to provide a good anchor for the second coat.
REBAKE
When a part is undercured during the first coat, it can be repaired by just returning it to the bake oven for normal cure schedule at the specified time and temperature. Properties will be recovered when the part is properly cured, with some exceptions, such as certain chemically controlled low-gloss coatings. Partial cure will result in a higher gloss, which does not drop to the same level during final cure that would have been obtained with an adequate initial cure.
Recoat powde coating is one of the methods of part repair after powder coating .